Model:

RZ38-02770200-R3U1

Brand: Razer
Type: Gaming Chair
Razer Iskur Gaming Chair with Built-in Lumbar Support (Black)
Series Iskur with Built-in Lumbar Support, Colour Black
GST included.
26.2"D x 29.35"W x 53.98"H Centimeters
Emi Options Available at the checkout in Cashfree or PortOne Payments
We will beat any price.
We back all products with a 1 year warranty
Please contact customer care for exact date and time, +91-9169295295 or email: support@digitalitcafe.com
View full details
Razer Iskur Gaming Chair with Built-in Lumbar Support (Black)
"Unwind, Recharge, and Drift Away with Our Zero Gravity Chair Experience"
Razer - Gaming Chair Description
PERFECT GAMING FORM
Keep the competition in your kill zone, as you enter your comfort zone with the Razer Iskur—an ergonomic gaming chair designed for posture-perfect hardcore gaming. When it comes to maintaining top form, we've always got your back.
"The Razer Iskur is an excellent option for gamers looking for long-term comfort for those marathon sessions."
Toms Hardware
ERGONOMIC LUMBAR SUPPORT SYSTEM
Unlike most gaming chairs which have lumbar pillows that shift over time or fixed supports that can't be adjusted, the Razer Iskur provides total lower back support with a built-in, fully adjustable lumbar curve that closely aligns to your spine—ensuring ideal gaming posture for maximum comfort in gaming marathons.
AVAILABLE IN BLACK AND BLACK/GREEN
MULTI-LAYERED SYNTHETIC LEATHER
This ergonomic gaming chair is wrapped in a material that not only feels comfy, but is tougher and more durable than standard PU leather, making it better suited to withstand the peeling that comes from long hours of daily use.
HIGH DENSITY FOAM CUSHIONS
For the perfect balance of support and comfort, the Razer Iskur has plush, dense cushions which provide better contouring, allowing your weight to apply just enough pressure as they mold to support your unique body shape.
MEASUREMENTS
aWheel Base DiameterbSeat Width (including sides)cSeat Pan Width (front)
if front width is different with the back seat widthdSeat Pan Width (back)eBackrest Width (lumbar)fArmrest-to-Armrest Distance (Inter-Armrest Distance)gBackrest WidthhArmrest Side-way AdjustmentiFloor-to-Seat HeightjSeat-to-Armrest HeightkBackrest HeightlArmrest Height Adjustment StrokemSeat DepthnSeat Depth (Overall Depth)
4D ARMRESTS
Enjoy fully customizable positioning with armrests that can be adjusted up and down, forwards and backwards, left and right, and rotated inwards or outwards.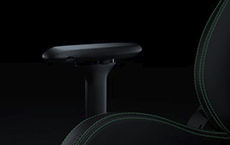 ENGINEERED TO CARRY
With a steel-reinforced body, armrests and wheelbase, this ergonomic gaming chair can support a weight of up to 299lbs/136kg, and is ideal for gamers with a height of 5'6"–6'2"/170–190cm. It also features angled seat edges to maximize resting surface area.
Recommended Size
MEMORY FOAM HEAD CUSHION
The Razer Iskur comes with a head cushion made of highly dense, yet malleable memory foam that molds to the shape of your head for the right amount of support and comfort.
WE'VE GOT YOU COVERED
Get up to 3 years of warranty and access reliable tech support. Purchase directly from RazerStore and get 14 days risk-free returns.
FAQ
What makes the lumbar support system on the Razer Iskur different?

The lumbar support system of our gaming chairs supports the full curvature of the spine to achieve a neutral spine position for healthy posture.

How much warranty comes with the Razer Iskur?

3 years warranty covering defective parts and components. Not including standard wear and tear.

What international test standards has the Razer Iskur passed?

International standards including BIFMA x5.1 and EN 1335-2

Which chair is the best for good posture?

Ergonomic gaming chairs work best for gamers who enjoy gaming for hours on end. Ergonomic chairs can help alleviate pressure on the spine and maintain good posture for a healthy spine.

How do you maintain good posture in a gaming chair?

The Razer Iskur gaming chair provides optimum lumbar support and straightens your posture without shortchanging you on comfort.

Do gaming chairs help back pain?

Gaming chairs can ease back pain by keeping you comfortable during marathon gaming sessions as it keeps your spine in the correct alignment. Strain is also taken off your neck since your lumbar will be adequately supported.
RECENTLY VIEWED
Recently Viewed Products
WHY DIGITAL IT CAFE
Many Reasons To Buy From Us