Model:

MS116 BLK

Brand: Dell
Type: Accessories
Dell Optical Wired Mouse - MS116
Series Wired, Colour Black
GST included.
Cash on Delivery orders below 50,000
Emi Options Available at the checkout in Cashfree or PortOne Payments
We will beat any price.
We back all products with a 1 year warranty
Dimensions: 6.09 x 11.3 x 3.58 cm
Order deliveries will be made by our own staff or third-party courier and logistics companies usually between 9am - 5pm Monday – Saturday. 

Goods will need to be signed for upon delivery. We take no responsibility for goods signed by an alternative person other than the person ordering the product at the address indicated at the time of the order.

Since the transactions are authorized by the cardholder, we do not take responsibility for incorrect addresses provided at the time of placing the order.

We are not responsible for damage to products after delivery.

All claims for shortages or damages must be reported to customer service on the day of delivery.

Delivery will take 3-7 working days depending upon delivery location.
View full details
Dell Optical Wired Mouse - MS116
Dell - Accessories Description
Reliable performance day after day
The Dell Optical Mouse – MS116 features optical LED tracking and wired connectivity providing a stellar performance day after day. Improve your productivity at the office or at home–the Dell Optical Mouse will help keep you on task with accurate 1000 DPI optical tracking.
Comfort that lasts
Designed for comfortable use over extended periods of time, the Dell Optical Mouse is your desktop partner. Shaped and sized to fit the contours of your hand with 2 buttons and a scroll wheel, the Dell Optical Mouse makes it easy to navigate through on–screen projects.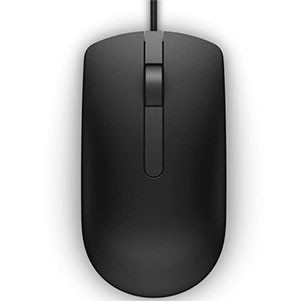 Compatible with practically any system
The Dell Optical Mouse is compatible with almost any system that has a USB port. Use one mouse in the office and keep another at home.
Plug and play convenience
Simply plug the Dell Optical Mouse into any available USB port and get to work–it's that easy.
At home or in the office
The Dell Optical Mouse is the perfect choice for either home or office use–wherever reliability, comfort and convenience are objectives.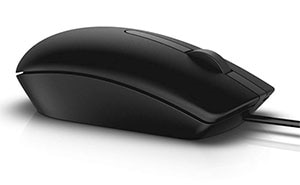 Contemporary aesthetic
With a contemporary design aesthetic, the Dell Optical Mouse–MS116 seamlessly fits into any desktop environment.
RECENTLY VIEWED
Recently Viewed Products
WHY DIGITAL IT CAFE
Many Reasons To Buy From Us